Posts for: July, 2017
By Steinwedel Dental Associates
July 20, 2017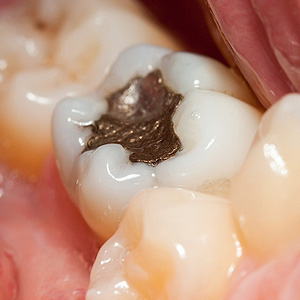 Allergic reactions aren't necessarily bad: they're your body's responses to possible threats from foreign substances. But the response can go too far and cause a reaction as minor as a skin rash or as life-threatening as a multi-system shutdown called anaphylaxis.
Anything can cause an allergy: animal fur, food, chemicals — or metals. Because metals play such a large role in dental care, it's only natural we're alert to the possibility of allergic reactions from a procedure.
But don't postpone your implants or other dental work just yet — the threat isn't nearly that ominous. Here are a few facts about dental metal allergies to help you sort it out.
Allergic reactions are rare for metals used in medical and dental procedures. Although reactions to metals in joint replacements or coronary stents leading to failure do happen, actual occurrences are rare. Most metal allergies manifest as a skin reaction to jewelry or clothing. It's less likely with medical or dental metals because they're chosen specifically for their compatibility with living tissue.
Amalgam fillings account for most dental work reactions. Dentists have used this multi-metal alloy for fillings and other restorations for well over a century. Tooth-colored resins are now used for most fillings, but amalgam is still used in less visible back teeth. It's very rare for a person to experience a reaction to amalgam, but when it does occur it usually results in minor inflammation or a rash.
Implant titanium isn't just bio-compatible — it's also osteophilic. Titanium is the perfect choice for implants not only because it's tissue friendly, but also because it's bone friendly (osteophilic). Once implanted in the jaw, bone cells naturally grow and adhere to it to create a more durable bond. Not only does the body usually tolerate titanium, it welcomes it with open arms!
While it's still possible for you to have an allergy to implant titanium, the chances are remote. In one recent study involving 1,500 implant patients, titanium allergies occurred in less than 1%. So the chances are high a metal allergy won't stop you from obtaining a smile-transforming restoration with dental implants.
If you would like more information on allergies and dental work, please contact us or schedule an appointment for a consultation. You can also learn more about this topic by reading the Dear Doctor magazine article "Metal Allergies to Dental Implants."
By Steinwedel Dental Associates
July 05, 2017
Via a recent Instagram post, pop diva Ariana Grande became the latest young celebrity to publicly acknowledge a dental milestone: having her wisdom teeth removed. The singer of hits such as "Break Free" and "Problem" posted an after-surgery picture of herself (wearing her signature cat-eye eyeliner), with a caption addressed to her teeth: "Peace out, final three wisdom teeth. It's been real."
With the post, Grande joined several other celebs (including Lily Allen, Paris Hilton and Emile Hirsch) who have shared their dental surgery experience with fans. Will "wisdom teeth removal" become a new trending topic on social media? We aren't sure — but we can explain a bit about the procedure, and why many younger adults may need it.
Technically called the "third molars," wisdom teeth usually begin to emerge from the gums between the ages of 17 and 25 — presumably, around the same time that a certain amount of wisdom emerges. Most people have four of these big molars, which are located all the way in the back of the mouth, on the left and right sides of the upper and lower jaws.
But when wisdom teeth begin to appear, there's often a problem: Many people don't have enough space in their jaws to accommodate them. When these molars lack sufficient space to fully erupt (emerge), they are said to be "impacted." Impacted teeth can cause a number of serious problems: These may include pain, an increased potential for bacterial infections, periodontal disease, and even the formation of cysts (pockets of infection below the gum line), which can eventually lead to tooth and bone loss.
In most cases, the best treatment for impacted wisdom teeth is extraction (removal) of the problem teeth. Wisdom tooth extraction is a routine, in-office procedure that is usually performed under local anesthesia or "conscious sedation," a type of anesthesia where the patient remains conscious (able to breathe normally and respond to stimuli), but is free from any pain or distress. Anti-anxiety medications may also be given, especially for those who are apprehensive about dental procedures.
So if you find you need your wisdom teeth extracted, don't be afraid to "Break Free" like Ariana Grande did; whether you post the results on social media is entirely up to you. If you would like more information about wisdom tooth extraction, please call our office to schedule a consultation. You can learn more in the Dear Doctor magazine articles "Wisdom Teeth" and "Removing Wisdom Teeth."